Pizza Lovers!
How to make an Italian pizza!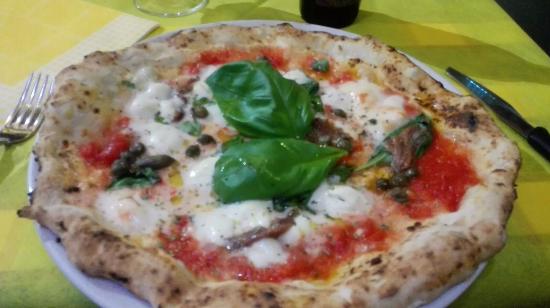 The ultimate Italian pizza requires the ultimate Italian pizza dough recipe- Yes, if you follow our recipe, you can make pizza like this at home! Want to know how to make a real Italian pizza? Your next best option is to check out this recipe: a simple, step-by- step guide!
The most important part is getting the Italian pizza dough right! More than just the base of the pizza, the dough is what gives the pizza its texture, holds together all flavors, and—if done right—can make you feel like you've been transported right back to Italy.
Before starting…Just a bit about pizza in Italy.
Even though it's become the most popular Italian food abroad, pizza and Italy didn't weren't always synonymous. In fact, pizza wasn't even invented until the 19th century, when it started out as a fast food on the streets of Naples. In the beginning, the simpler the pizza, the better: The classic pizza napoletana was just dough with a tomato sauce of Marzano tomatoes, oregano or basil, a little garlic, salt, and olive oil.
It's another pizza from Naples, though, that has the neatest pedigree. When Queen Margherita came to visit Naples in 1889, she was charmed by a local pizza baker who had made, in her honor, a pizza with the colors of the new flag of the just-unified Italy—red tomatoes, white mozzarella, and green basil. Yep, you guessed it. It's now called the pizza margherita (or margarita, in some menus).
Of course, Italian food is very regional, and so are Italian pizzas. (Although any real Italian pizza should always be cooked in a wood-fired oven; in fact, a pizzeria without one can't even, legally, call itself a pizzeria!). That world-famous pizza in Naples is known as "pizza alta" (thick crust), while pizza in Rome is traditionally thin-crust and crisp.
Like the rest of Italian food, Italian pizza is best—and most authentic—when it's made with fresh, local ingredients, especially any that are DOP (You can read a full explanation of this wonderful little term in our blog about DOP foods). We're not talking the microwaved dough and synthetic cheese that you see now both in Italy and abroad, but something completely different.
The best way to try it, short of going to an authentic pizzeria with great ingredients and a wood-fired oven? Make it at home!
WHAT YOU NEED TO MAKE AN ITALIAN PIZZA
(makes dough for 4 pizzas, each one about 12 inches in diameter):
600 mL of warm water
7 cups (1kg) flour, type "00"*
2.25 teaspoons (25 grams) yeast
6 tablespoons of extra virgin olive oil
1.5 tablespoons salt
2 teaspoons sugar
*A note on the flour: In Italy, "00", or "doppio zero," flour is the most highly-refined and finest-ground flour available. Not available where you are (or too expensive?). An all-purpose flour should work just as well!
HOW TO MAKE YOUR PIZZA:
1. Sprinkle the yeast into a medium bowl with the warm water. We don't mean hot, and we don't mean cold… we mean warm! That's the kind the yeast likes best. Stir until the yeast dissolves.
2. Place almost all of the flour on the table in the shape of a volcano.
3. Pour the yeast-and-warm-water mix, along with the other ingredients, into the "crater" of the volcano.
4. Knead everything together for 10 to 15 minutes until the dough is smooth and elastic, keeping your surface floured.
5. Grease up a bowl with some olive oil and put the dough inside. Turn the dough around so the top is slightly oiled.
6. Cover the bowl and put the dough aside to let it rest for at least four or five hours.
7 (optional for those who want their pizza really authentic). Make a cross on top of the dough with a knife. An old Italian tradition, this is seen as a way of "blessing the bread."
8. Preheat the oven to about 400°F, or about 200°C.
9. Dump the dough out of the bowl and back onto the floured surface. Punch it down, getting rid of any bubbles. 
10. Divide the dough in half and let it rest for a few minutes.
11. Roll each section into a 12-inch disc. Now's your chance to decide how thick you want your pizza to be! Do you want it pizza alta (Neapolitan-style) or pizza bassa (Roman-style)? Just remember, your crust will puff up a little bit as it's baked!
12. Transfer the dough onto an oiled pizza pan or baking sheet.
13. Add tomato sauce, if you want a pizza rossa (red pizza). Lots of pizzas in Italy are actually pizza bianca, without tomato sauce, so don't feel like you have to! Brush the edges of the crust with a little bit of olive oil.
14. Bake each pizza for about 10 minutes, then add mozzarella cheese (sliced or grated) on top, as well as any other ingredients.
15. Let the pizzas bake until the crust is browned and the cheese is melted. By lifting up the pizza to peek underneath, you can make sure the bottom has browned, too.
16. Remove your pizzas from the oven and, for a real Italian touch, garnish with a few basil leaves. And enjoy!